UCLA/Mellon Foundation Interns Make Southern California History
---
Cataloging Visual Communication's Past for an Accessible Future
By Chloe Reyes || January 2023
Founded in 1970, Visual Communication houses one of the largest archives dedicated to the Asian American experience in the United States. When I first walked into the space, I immediately felt welcomed by both the amazing staff and by the archive's atmosphere. History lines the walls in almost a comforting way. Each week, I am so happy to participate in our Boba Runs, a ritual started by previous interns and staff as informal meetings to get to know one another. We relax with ice breakers and practice deep listening with each other. These practices not only create bonding experiences, but also mirror the values of Visual Communication, which advocates empathy, care and trust in its archival practice.
The vast VC Archive includes several bookcases and rolling racks which house original assets including negatives, color slides, 16mm film prints and moving image pieces stored on various magnetic media formats. In my internship, I have spent the majority of my time cataloging several photographic collections created by VC. One of these collections includes the Aardvark Publication Collections, a collection of approximately 6,000 images that observes the traditions, rituals and social conditions of Los Angeles' vibrant Chicano neighborhoods. Commissioned by the LA Board of Education in the 1970s, and in collaboration with Visual Communications, these images were then turned into a series of educational booklets.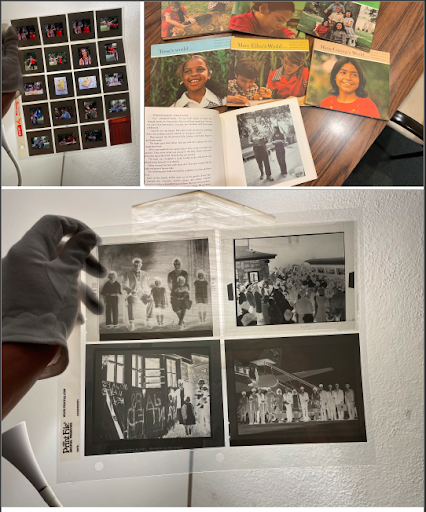 Another collection I helped to catalog is the George T. Ishizuka and Harukichi Nakamura Asian American Movement Collection, a nearly 40,000 black-and- white image collection documenting the events, historical milestones, and personalities created by VC's founding members and core staff members in the 1970s and 1980s. By cataloging these collections, I have not only gotten hands-on skills with the cataloging process, but have learned more about the rich history of VC's projects and staff. In addition to cataloging, I have also been digitizing physical assets, including 120mm negatives that document the Korean-American experience in the 1940s.
As the new year begins, the priorities for the archive are shifting to VC's vast moving image archive. I'm excited to begin work on a digitization plan for the magnetic media, as well as helping to plan an infrastructure for easier online accessibility to VC's important collections.
---
"We are all part of the same fabric": Understanding and learning from the community in El Monte, California
by Bianca J. Sosa-Phal || December 2022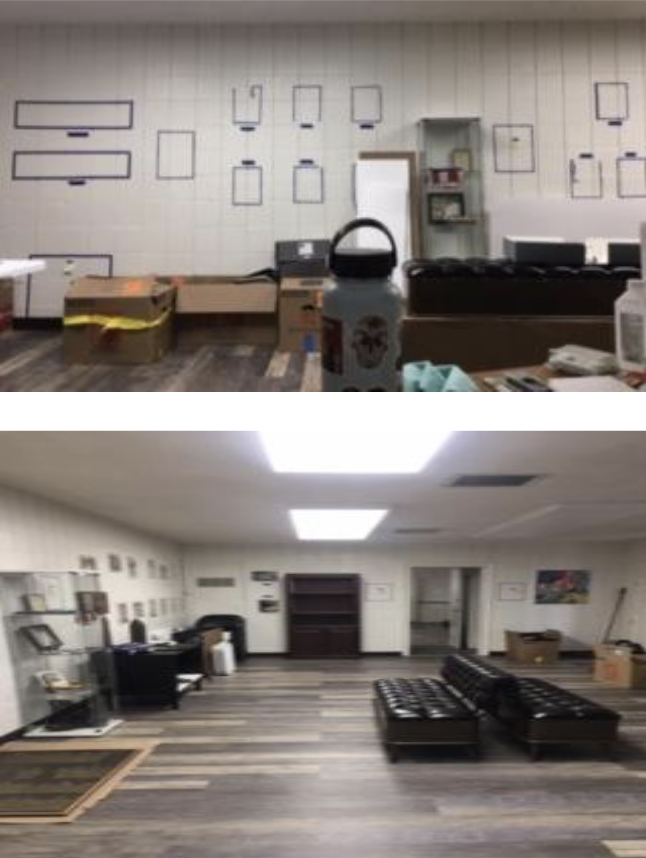 I became the Mellon Intern for La Historia Historical Society Museum (LHHSM) in September 2022. When I walked into the museum for the first time, it was empty; its white walls said nothing of what the building once held. Yet, I felt just as empty. I had little knowledge of the challenges, pains, and triumphs the Mexican American community in El Monte had experienced. However, as the collections began to make their way back into the museum, it became evident that my time at LHHSM would define my work and commitment as a future archivist.
In 1998, El Monte and South El Monte barrio members established LHHSM to effectively counteract the symbolic annihilation of Mexican American history in El Monte [1]. Their goal was to mainly document the experiences of those forced to live in segregated communities known as barrios. In addition, they believed that having a museum run by barrio members would remove the possibility of neglecting the voices and collections of barrio members and make the collections more accessible to the community. Finally, they hoped to make younger generations conscious of the existence of the barrios and informed them of how Mexican Americans had contributed to US history. LHHSM now stands as proof that El Monte Barrios once existed and thrived despite the harassment, discrimination, and segregation members experienced. LHHSM's mission is to counteract the erasure, misrepresentation, and grotesque image of barrio residents, correct the Mexican American narrative, and strengthen the community of El Monte.
What is community? This word can be as empty as a building after a renovation or as profound and warm as your grandmother's home—a home filled with objects, photographs, and stories that connect us and positions us in history. There is no better term to describe what transpires within the walls of LHHSM other than "community." Community is key to the existence of LHHSM. The community nourishes the museum. The community informs our understanding of their history and provides the context of every photograph, document, and artifact. Contributing to LHHSM is a personal matter for community members because it is their story, narrative, and voice, and they get to tell it on their own terms [2]. LHHSM is not a historical building, nor is it located within the premises of a barrio; the building in itself is an empty vessel. What makes it significant, meaningful, and warm—like a grandmother's home—is indisputably the many voices, contributions, people, stories, and collections that have made LHHSM their home.
During my short time at LHHSM, I have accomplished many tasks. For example, I conducted oral interviews and assessed, cataloged, and organized collections. In addition, I have participated in the progress of several grants, written proposals, and put best practices and protocols in place. However, this was only possible thanks to the participation of previous Mellon grant interns: archivists such as Lauren Molina, Samantha Abbot, Hannah Whelan, and Juliana Clark. They started the work I now get to finish. They have also set the example that I must continue my work, not hoping to finish but aiming to further it far enough for the next intern to carry it on.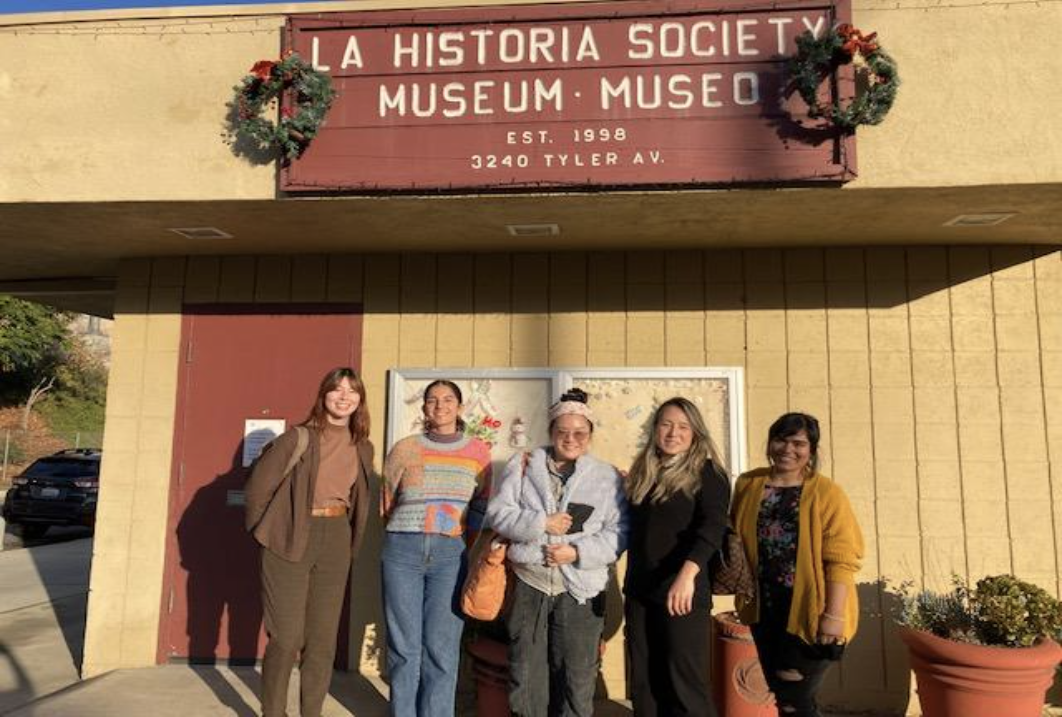 My time at LHHSM and working alongside Rosa Pena (the president) have taught me more than what I can write on this page. All I can say is thank you for the opportunity, the stories, the tears, and the encouragement. My time here will pass, but the memories will never be forgotten.
[1] Michelle Caswell et al., "'To Suddenly Discover Yourself' Existing: Uncovering the Impact of Community Archives," The American Archivist, 79, No.1, (2016): 57.
[2] Andrew Flinn et al., "Whose memories, whose archives? Independent community archives, autonomy, and mainstream," Arch Sci, 9 (2009): 83.
---
Making SRHMA Collections Accessible in Service of Skid Row Placekeeping
by Emily Benoff || November 2022
Located two blocks from Main Street, the westernmost boundary of the 50-block Skid Row neighborhood, the Skid Row History Museum & Archive (SRHMA) is the only community archive with the mission of leveraging residents' archival autonomy to document Skid Row's activist, artistic, and recovery culture(s). Closely tied to the neighborhood's history is the work of the Los Angeles Poverty Department (LAPD, but not that LAPD ), SRHMA's parent organization and the first performance arts group in the country composed primarily of unhoused people. Amongst other narratives, SRHMA's holdings chronicle LAPD's 37-year (and counting!) effort to resist state-led displacement through participatory theater. As this year's Mellon intern, I'm fortunate to collaborate with my predecessors—and current SRHMA archivists—Zachary Rutland and Henry Apodaca to amplify residents' voices by facilitating the accessibility of the archive's collections.
Working at SRHMA is especially meaningful because I get to witness the archive's mission in action each time I enter the office. Zach, Henry, and I, along with myriad volunteers and visitors, work at a large table in the mezzanine. The communal nature of our workspace lends itself to mutual learning; whether I'm processing a collection, transcribing oral histories, or receiving hands-on training in analog media preservation, my work is always inspired by our collective imagining of inclusive archival approaches. Directly below us, LAPD holds its rehearsals. Us archivists engage with and are informed by the troupe members' creative process. I'm honored to be building generative relationships with the co-creators of the records I am processing—those who are fighting for their neighborhood's survival in the face of erasure and discrimination. This living archive encapsulates the very impulse that fueled my desire to become an archivist: the potential of archives to visualize how communities (re)negotiate and preserve their connections to place over time.
To surface Skid Row's activist history, SRHMA has purchased a CMS with the intention of ingesting item-level metadata—now stored in GoogleSheets inventories—to be publicly browsable via the web. As part of my internship, I am leading a project to evaluate, normalize, augment, and prepare all legacy metadata to fulfill this long-term goal. This involves crosswalking metadata schemas; standardizing inventories; cleaning and enriching data values; and creating a local subject term thesaurus to aid cataloging and user searches. I am currently establishing a sustainable project workflow using the LAPD Photograph Collection as a case study, with scalability and adaptability in mind.
As an outsider to Skid Row, I rely on the ontologies of LAPD members (who are eager to share their stories) to accurately represent archival holdings. I center Skid Row residents' information behaviors in all that I do, knowing that their activism secured their neighborhood's borders and created SRO housing on Skid Row. As LA City Council is increasingly mobilizing public resources for the purposes of community displacement and downtown redevelopment, it is imperative that SRHMA make accessible and activate its collections in service of Skid Row placekeeping. I am excited to be contributing to this important work.
---
Activate the Archive Through Art: The Los Angeles Poverty Department's Walk the Talk Parade
by Shawne West
Since September of 2021 I have been working with the Skid Row History Museum & Archive (SRHMA) as their Mellon Intern. Working and learning with two former Mellon Interns, Henry Apodaca (UCLA MLIS 19'-20') and Zach Rutland (UCLA MLIS 20'-21'), I have been able to support the archive's multi-layered focuses and commitments. Created by the performing arts organization, the Los Angeles Poverty Department (or the other LAPD), the archive captures the history of the LAPD itself – recorded performances, press, workshop and rehearsal materials – as well as the long and complex history of Skid Row itself.
LAPD's entire history can be connected to the efforts to capture and honor the living moments of Skid Row's history, through performance. A distillation of these efforts comes in the form of LAPD's Walk The Talk (WTT) parade, a bi-yearly celebration of "people who live and work in Skid Row and who have made it a significant neighborhood and a place for solving the problems that other people have given up on." Since 2012, through a community nomination process, LAPD has led this celebratory parade (brass band included) through the streets of Skid Row, stopping at locations representative of each honoree. Each stop features a short vignette developed by the LAPD performers, acting out the story of their journeys to Skid Row and their work on Skid Row.
This entire process, as well as the performances LAPD has done throughout the past 30+ years, encompasses the creative activation of archival records. The vignettes performed along the WTT route are distilled from 1-2 hour interviews with each honoree. These interviews are transcribed and then uploaded to the WTT Archive – a virtual repository that is publicly accessible, where users can learn Skid Row history directly from the individuals contributing to it. This is the work that a community archive exists to empower: communities who get spoken for in the traditional archival record reclaiming their narrative and speaking for themselves – and Skid Row is a community that often has decisions made for them, not with them.
My work as the SRHMA's Mellon Intern in this project has been editing the computer generated transcripts – aiding in the creative distillation of an 1+ hour interview into a 15 minute group performance. The most recent WTT parade was Saturday, May 28th, and throughout the afternoon we danced and sang throughout the streets of Skid Row celebrating the 8 honorees – bringing the archive to life, with the community.
*************************************************************
The Importance of Documentation & Digitization in SPARC's California Chicano Mural Archive
by Erin Schneider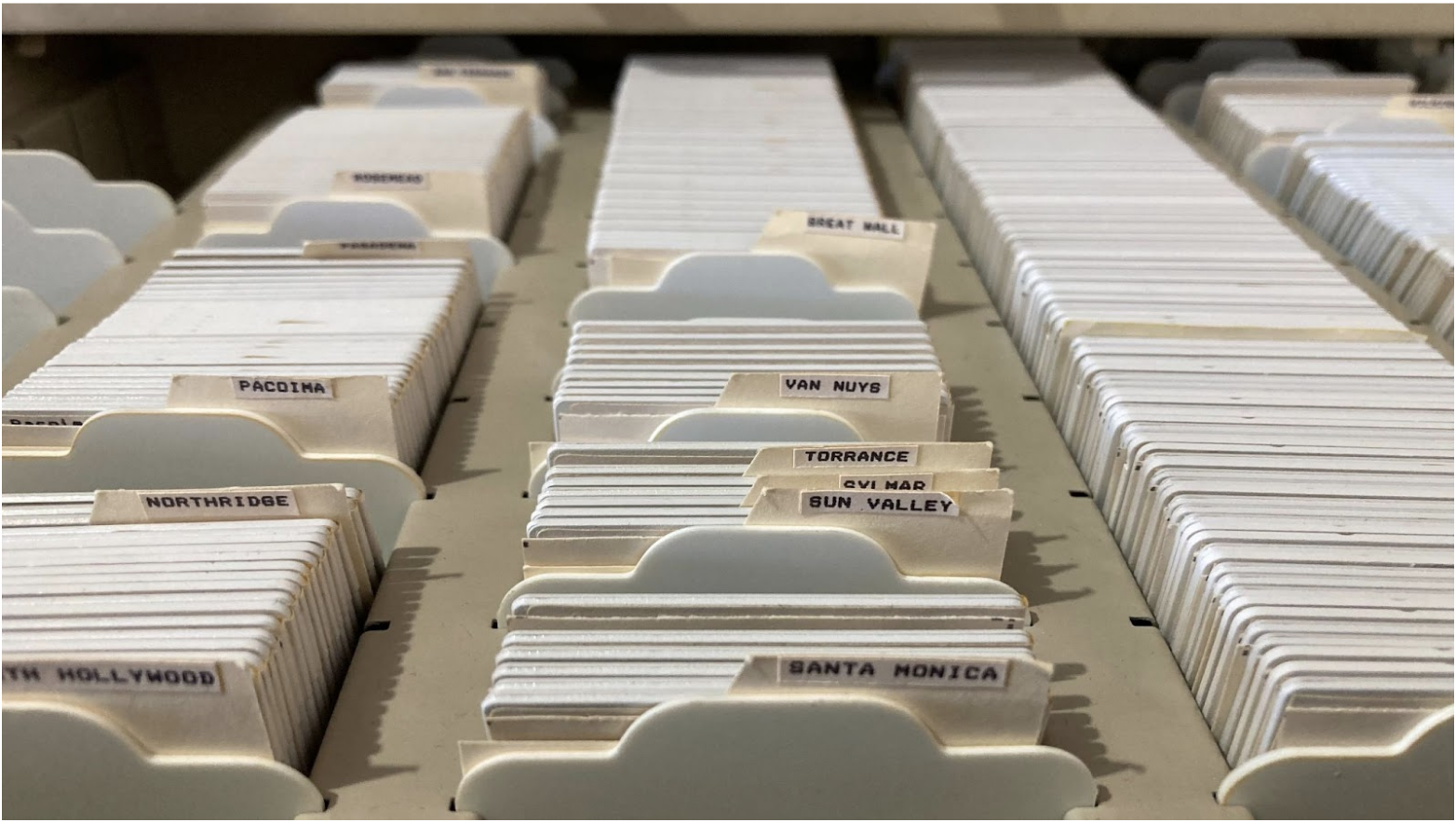 This past year, I have had the pleasure of working with the Social and Public Art Resource Center (SPARC). SPARC was founded in 1976 by Judith F. Baca, Donna Deitch, and Christina Schlesinger. Their mission is "to produce, preserve, and promote activist and socially relevant artwork; to devise and innovate excellent art pieces through participatory processes; and ultimately, to foster artistic collaborations that empower communities who face marginalization or discrimination."
I have spent the majority of my time at SPARC in the Mural Archive, digitizing thousands of 35 mm slides from the California Chicano Mural Archive (CCMA). While the CCMA is only part of SPARC's larger collection of thousands of mural slides, it is an extremely significant collection representing the importance of the Chicano art and social movement during the 1970s and on. The images range from the 1970s -1980s, and cover Southern and Northern California, from San Diego to Santa Rosa. Every image in the collection is unique, and full of historical significance. The murals depict everything from families and workers movements to local and international histories, from religious icons and cosmic ancient gods to so much more. Some of my favorite images include portraits of the artists themselves, or behind the scenes shots of murals in progress.
The immense importance of documenting these murals cannot be underestimated. While some of the murals represented in the collection still exist today, such as the Great Wall of Los Angeles by Judith F. Baca and collaborators (thanks to SPARC and restoration initiatives) or evolved with new murals (such as Chicano Park in San Diego) many have disappeared with time. Though SPARC has published an excellent book on the subject (Signs from the Heart: California Chicano Murals) using images from this particular body of work, the entire collection isn't currently available for online research.
As we've learned, digitization does not necessarily mean access. Once the slides have been digitized, there are additional steps. Following the workflow established by my predecessors, UCLA students and interns Hannah Rogers and Michael Sokol, I have been digitizing slides into .tiffs, and creating .jpeg access copies, after adding metadata to each file including the artist(s), title of the mural, year of image taken, location, and dimensions. Eventually, the images and attached information will be uploaded to an Omeka site, for access and research purposes. This will create an exceptional repository not available anywhere else, and will provide crucial images illustrative of the Chicano mural movement. I'm honored to have contributed to this important process of documentation and digitization for the ultimate goal of sharing knowledge.
***********************************************************
Connecting to Everyday Lesbian History
by Hall Frost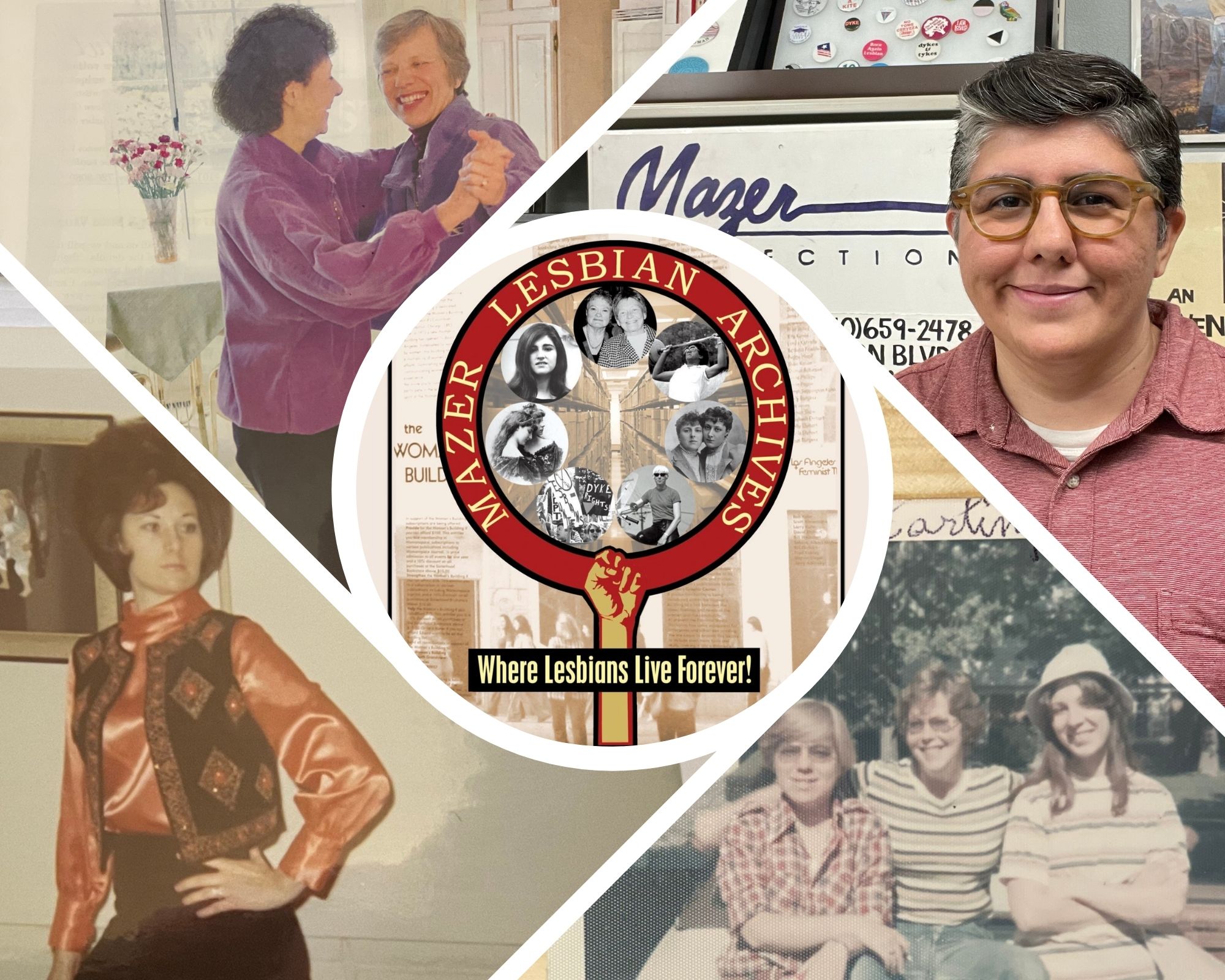 When I expressed interest to my partner in applying for the internship at the June L. Mazer Lesbian Archives, she said "oh good, maybe you'll learn something about our history."
I scoffed and shot back "I know about our history!"
But the truth was, I didn't actually know much about LGBTQ+ history at all. I don't like drag shows or gay bars, I don't like Pride, and the queer history I did know was all centered around trauma: Stonewall and Matthew Shephard and the AIDS crisis and a general historical ban on being queer in any way whatsoever. Couple that painful history with a culture that loves giving queer people the tragic, unhappy ending in popular media and the end result for me was to simply step away from it all.
Of course, the archives is filled with histories detailing these painful times; this collective trauma exists in some way in most queer people, even those like me who tried to avoid it all. But it's also got baseball uniforms from the 1950s, cassettes filled with live music performances, thousands of periodicals that cover every topic from lesbian scuba diving to women's health to sports and even books of poetry exclusively written by old lesbians; essentially, it's got something for everyone. The Mazer is a place that offers community, connection, and joy.
The Director of Communications at the Mazer, Angela Brinskele, describes the Mazer as the "archives of the everyday lesbian." It's a place that offers an insight into lesbian life from the past, and thus offers many points of connection to meet a wide range of interests. During my time at the archives, we had researchers come in looking for everything from video footage of The Dinah Shore festival, to articles about lesbian separatism, and anything and everything we had related to women's health clinics. For me, I ultimately found connection in the JoAnn Semones and Julie Barrow collection, which I spent the better part of six months cataloging at the item level.
This description project is being done to prepare the collection for future digitization, finding aid creation, and rehousing. The collection is made up of over 1500 photographs, spanning from the 1940s to the early 2000s. These photos tell the story of JoAnn and Julie's lives.
My work with this collection involving describing each photograph in detail, compiling search terms, and documenting notes written on the backs of photographs, and it's date and location. I poured over every photo, eventually coming to know the names of every family member, partner, even the pets! At times I felt as if I had known these two my entire life. As I worked, I finally found my connection to the community and lesbian history. First in a letter sent out in Christmas cards written by Julie Barrow's mother in 1961 in which she describes Julie, 6 or 7 at the time, as "delighted at being a reader now, likes school but deserts the dolls for the great outdoors." And again, in a group of photographs from the 1980s depicting JoAnn Semones and her friend pulling down wallpaper and repainting rooms, followed by well-earned beers at a card table set up in the garage in the home JoAnn just purchased.
Although I always hate to admit it, ultimately, my partner was right. I had a lot to learn about our history. Luckily, the Mazer is a special place that has a lot of amazing things in their tiny space and allows even those like me, who didn't feel as though there was a place for me in lesbian history, to find their connections and community. I'm honored to have spent my time there and thrilled to know that the work I did will help other lesbians connect to their everyday history.
**************************************************
Leveraging Technology to Preserve California's Chinese American Stories
by Anne Olivares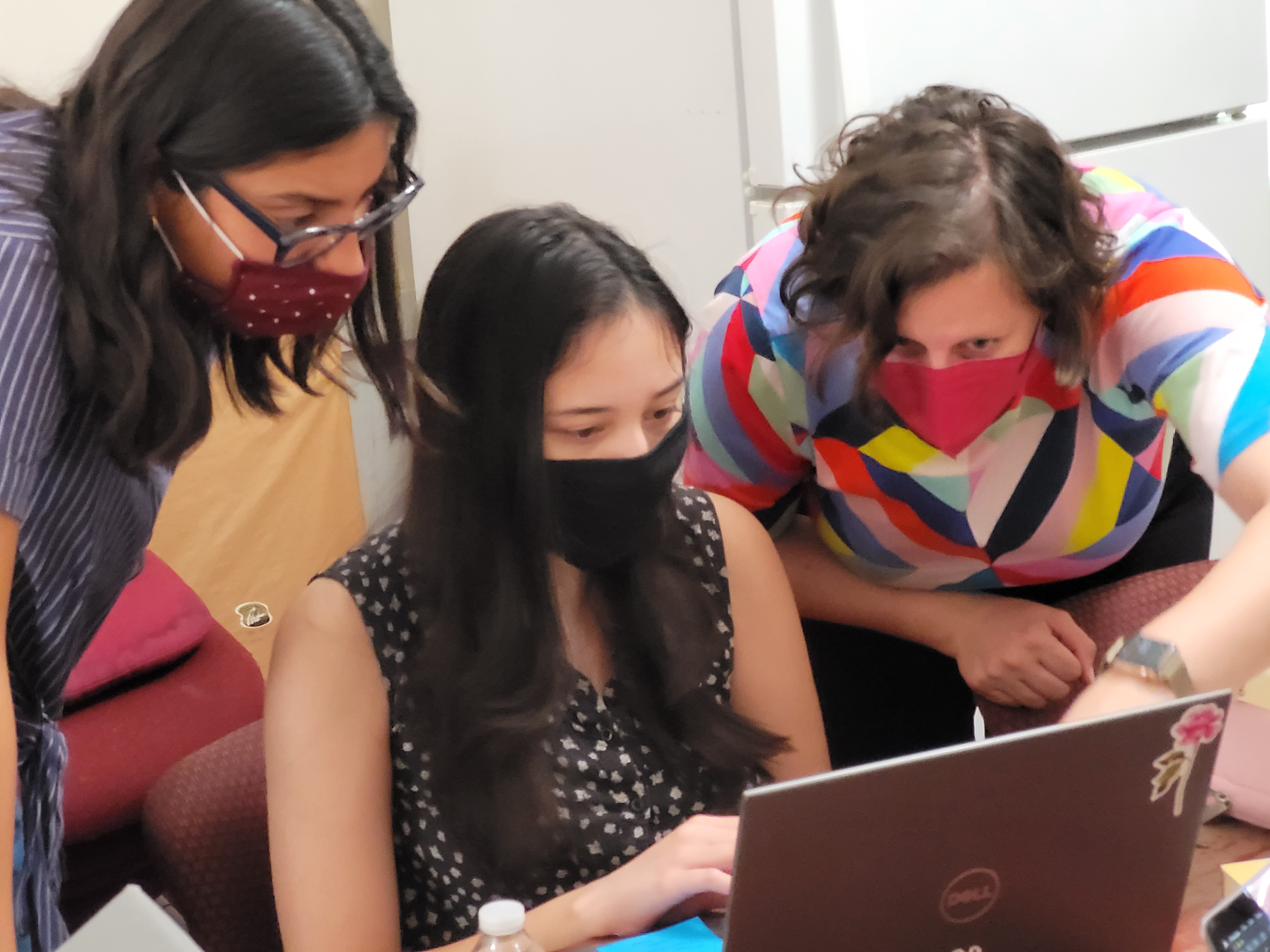 During the first quarter as the 2021–2022 intern with the Chinese Historical Society of Southern California (CHSSC) located in DTLA's Chinatown, I have been privileged to regularly work alongside two brilliant and enthusiastic individuals—Coryn Hardison, the site's 2020–2021 Andrew W. Mellon UCLA Community Archives intern and current Collections Manager; and Linda Bentz, career archaeologist and long-term board member who oversees archives activities for the site. I am fortunate to have Coryn and Linda at my side as we discuss goals for the archives and the various challenges of community archives—storage space, digitization, and accessibility to the collection via various online platforms.
Since beginning with CHSSC in October, I have encountered members of Southern California's Chinese American community in a variety of ways. The persistence of COVID-19 has complicated this, however I am grateful to say it has not completely hindered my ability to connect to the material CHSSC collects and maintains for their community, a challenge Coryn also dealt with in the previous school year. I have briefly encountered members of the community during on-site work at CHSSC, where board members drop in time-to-time and individuals occasionally drop off donations to the archives. I also had the privilege to volunteer at a Congressional Gold Medal ceremony for Chinese American veterans of World War II in Ventura in November 2021, including a living veteran in his 90s.
My goals with CHSSC have been a moving target that include many opportunities to handle physical material alongside an ongoing project of refining CHSSC's online content and accessibility. For example, I have assisted with the organization of their extensive library—a collection of books related to the Chinese American experience as well as tangential histories—both physically and digitally via a Libib account created with the help of volunteers over the last several years.
Although I have a lifetime of experience working with technology, I have been challenged with digital exhibition creation using Omeka S, quite a steep learning curve I must admit, and assistance with the deployment of the archives' first data logger. Before the end of this internship, I intend to gain experience with more technologies used by both small and large archives including: ArchivesSpace—to create finding aids for yet unprocessed material —and Airtable—to keep track of material related to the Southern California Oral History Project taken on by CHSSC members some years ago and the related metadata. CHSSC is also collaborating with Huntington-USC Institute on California and the West who utilize Airtable to gather and organize an incredible amount of data related to Old Chinatown for a future augmented reality project surrounding Los Angeles' Union Station.
The experience with CHSSC will undoubtedly provide an incredible foundation for my future goal as an archivist and memory worker for small collections going forward. I have a passion for understanding and tackling the various challenges archives and collections outside of large institutions face, and this experience falls immediately within that realm.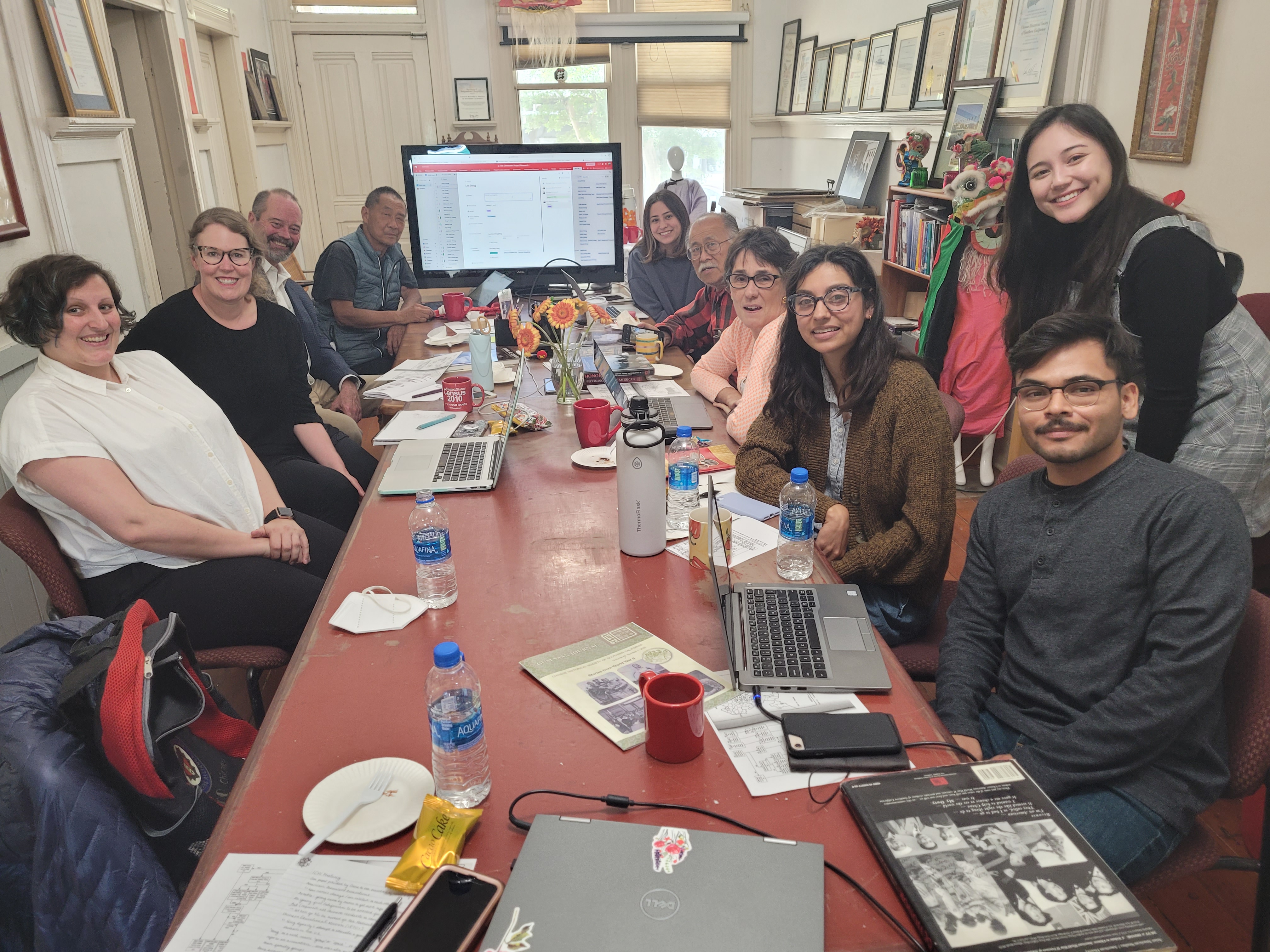 ************************************************************
Stories from El Monte
by Samantha Abbott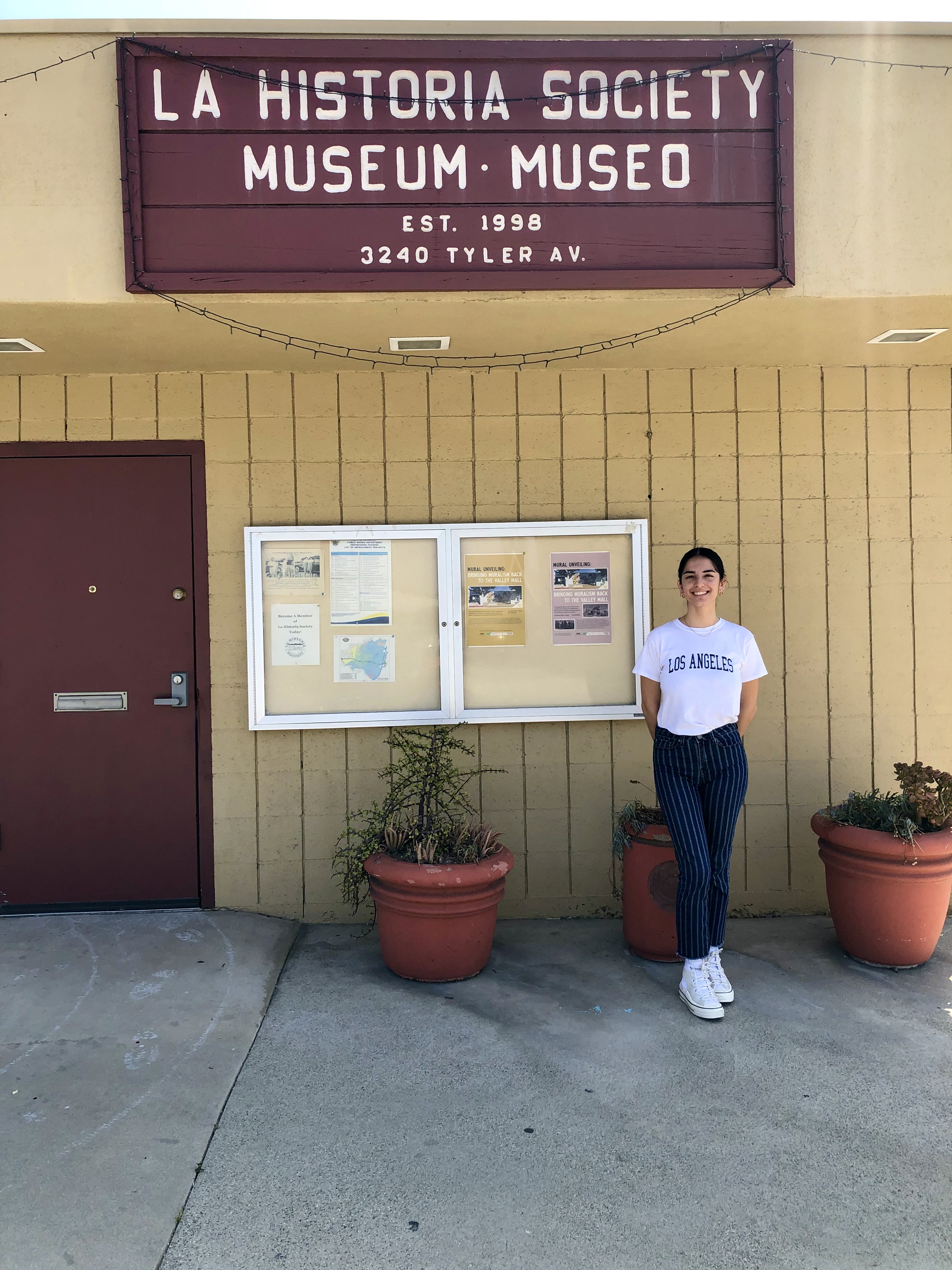 During my time at La Historia Historical Society Museum (LHHSM), I have had the pleasure of seeing how this archive and museum is closely tied to the community it serves. El Monte is located in the San Gabriel Valley, a few miles east of Los Angeles and LHHSM is situated near important community landmarks such as El Monte High School, the El Monte Library, and other museums, community centers, and parks.[1] LHHSM seeks to preserve the history of the city's Latinx, Asian, and Native American communities over the past century through photos, artifacts, art, videos, and more. Joining LHHSM's team for the past four months has granted me the opportunity to work directly with community members through oral history projects and raise funds for the archive through grants that support the archive's preservation and exhibition work.
LHHSM acts as a point of connection where community members can link their lives to other El Monte residents across time. During a visit to the museum, one group of siblings browsed through the archive's photo collection, which is displayed throughout the museum walls. These photos highlight daily life in the distinct barrios of El Monte and this family was able to recognize their father photographed throughout the museum and share his name with LHHSM. By identifying loved ones featured within the archive, community members share their knowledge and help to fill gaps in the museum. LHSSM's guests are often both attendees and contributors, helping to name people within photos with limited descriptions, and are key parts of preserving El Monte's history. Community members are also involved as part of the archive's staff and board. LHHSM conducts its work through the dedication of its volunteer staff whose consistent advocacy has enabled its growth as a small community archive. With the support of programs and grants like the UCLA Community Archives Lab/Andrew W. Mellon Foundation Internship Program, LHHSM has been able to expand its projects to accomplish its mission.
Community members further contribute to the museum through their participation as narrators in LHHSM's oral history projects. My First Car, the museum's most recent oral history project started by last year's Mellon intern Juliana Clark, explores coming of age in El Monte and documents the relationships community members have with their first car and with the parts of El Monte they love to visit. Various interviewees have spoken of a car culture that connects family members and where oldies can often be heard playing through the speakers of cars riding through the city. LHHSM hopes to combine these narratives with photos and objects donated by the oral history narrators to illustrate their stories. It has been rewarding to speak with El Monte residents and as LHHSM expands, I hope to continue to support the archive's team in bringing about exhibitions that represent El Monte's close community to people across Southern California.
---
[1] City of El Monte. "About El Monte | El Monte, CA." https://www.ci.el-monte.ca.us/334/About-El-Monte.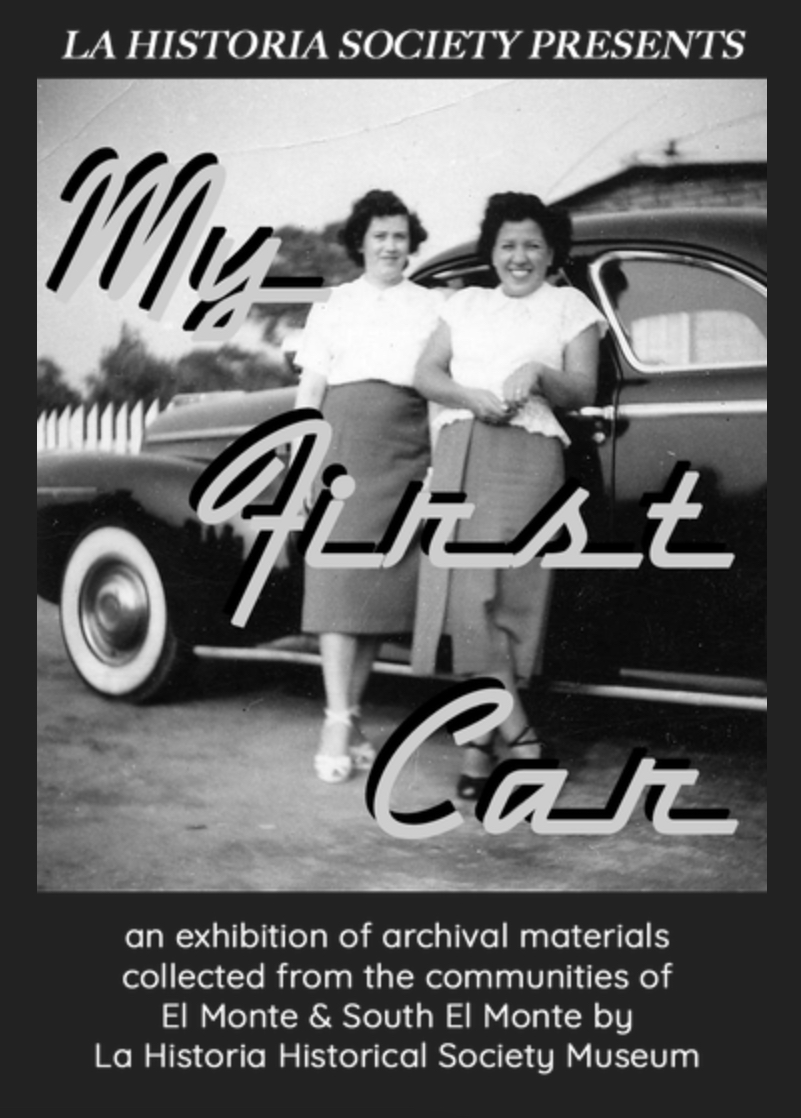 ---
---
************************************************************
Visual Resistance: Exploring the Role of the Art Archive and Personal Archive-Building in Dismantling Carceral Narratives by Hannah Whelan
With the support of Andrew W. Mellon Foundation/UCLA Community Archives Lab, I've spent the past six months exploring methods of community art archiving and exhibition at Los Angeles Contemporary Archive (LACA).
LACA is a community art archive and library that houses art-related objects and small edition artist's books created by anyone who self-identifies as an artist. LACA is open to the public and is located in Chinatown's Asian Center, where it has stood for the past five years.
The collection at LACA is artist-run, which means that living artists are donating, deciding what is valuable, and generating language for inventorying their work on their own terms. One part of this process that I particularly admire is that artists create the metadata for their donated materials, which is an exchange that both demystifies the metadata creation process and helps to narrow the chasm that can exist between archivist and donor perspectives on value and subject matter. LACA's collection materials can be accessed through the LACA database, where born-digital materials are housed alongside pirate radio broadcasts, recordings of LACA programming, and scanned ephemera—all of which are archived at the item level.
Along with their digital and physical archives and library, LACA also maintains an exhibition space that hosts public events including panels with scholars and activists, book releases, performances, and temporary exhibitions. As I have spent time over the past six months becoming familiar with the LACA collection and working alongside those who care for it, I have also been developing an open call for an exhibition that I will be curating and exhibiting at LACA. The exhibition will feature works of art created on envelopes carrying correspondence between currently and formerly incarcerated artists and their loved ones on the outside.
Beyond adding decorative value, these works of envelope art, which are often collected and preserved in the homes of loved ones, offer community members experiencing incarceration a way to express their self-determined identities while maintaining crucial ties to their networks. By being deposited outside prison walls, these works allow senders and recipients to carve out space for communication and exchange to occur on their own terms—free from the physical presence of prison guards and the constant threat of institutionally-sanctioned destruction that exists when works of art remain in cells.
Because the stories that emerge from the circulation of envelope artwork hold incredible power and affective reach that resists state-generated narratives of dehumanization, these works are particularly vulnerable to surveillance, censorship, and destruction within carceral institutions. Given that my research at UCLA focuses on how archival projects intended to aid the incarcerated must avoid perpetuating surveillance and criminalization, the deed of gift I am creating for the collection takes into account the very specific vulnerabilities that exist with this project.
By collecting and exhibiting these works at LACA, we are using the space of the archive to resist carceral narratives and instead highlight projects of self-documentation and archive-building that convey the individual and collective humanity of those experiencing incarceration. The role that letter writing and envelope art play in disrupting carceral narratives and protecting the livelihoods of senders and recipients is one I have long been aware of, as my father has spent the past eighteen years in prison serving what will ultimately be a life sentence.
Through my research at UCLA and my work with LACA, I've found myself considering our correspondences as part of a history of artistic exchange and personal archive-building that is not only essential to the survival of our relationship, but will be indispensable to the preservation of his legacy as one that is not solely shaped by his incarceration.
While my connection to this show is deeply personal, I am inspired by any opportunity to explore collaboration between artists, archives, and abolition work. I am currently conducting outreach to currently and formerly incarcerated artists and am continuing to explore the various ways that artists and activists are using forms of visual expression and archive-building to resist carceral narratives. I look forward to continuing to develop the exhibit and associated public programming in conversation with those who have joined us as partners, and I am grateful to LACA for providing the platform to help activate these discussions.
---
*************************************************************
Digitization and Quality Control for Community Empowerment in the Visual Communications Archives
by Elizabeth Wood ---
In February 1942, two months after the attack on Pearl Harbor, President Franklin Delano Roosevelt signed Executive Order 9066, which called for the "evacuation" of Japanese Americans from coastal areas. The order resulted in the upheaval of communities, forced people from their homes, and, in some cases, broke up families. Under the order, Japanese Americans (including children and the elderly) from all over California were forcefully imprisoned in desert camps and made to sleep in hastily converted horse stalls or crammed together in bare wooden barracks. Most people were imprisoned for three to four years, and while some returned to their homes upon release (homes that were often tagged with racist graffiti in their absence), many chose to relocate permanently. President Ronald Regan issued an order in 1988 apologizing for the internment camps, but California did not officially apologize until 2020.
Visual Communications (VC) is an Asian Pacific American community media arts organization located in Little Tokyo in Los Angeles. Founded in 1970 with a dedication to documenting the civil rights and Asian American movements, their work has been preserved in the VC Archives, which have grown to include materials donated by Asian American families and individuals, including photo albums and scrapbooks. Among the collections are thousands of photographs (both from family collections and from efforts to collect and copy photos from the War Relocation Authority), newspaper clippings, and scrapbook pages documenting the period leading up to, including, and after the internment camps. Over the past several years, a concerted effort has been made by VC to have these documents digitized, and part of my work as an Andrew W. Mellon Foundation/UCLA Community Archives Lab intern at VC has been to cross-check the file directory of digitized images against binders of photographic negatives to ensure that every image in the photography collection has been digitized and cataloged.
I grew up in a small rural town in Virginia, and my public school education on this topic was cursory at best. The only camp I was familiar with prior to my work at VC was Manzanar, so many of the names I saw as I worked through the binders – Tule Lake, Granada, Heart Mountain, Jerome – were unfamiliar to me and I looked them up as I went. I found that several camps have been protected as national monuments and so are represented on the National Parks Service website, and more information exists at the National Archives and the Library of Congress. Notably, these are all government bodies, which means that the stories of these camps and the people affected by them are being told by the institutions that perpetrated the crimes, and the language reflects that dynamic. For instance, photo captions on these sites often refer to the camps as "relocation centers," and the people interned as "residents of Japanese Ancestry" (deliberately distancing and denying their American citizenship and identity). The descriptions and histories on these sites refer to prisoners as "evacuees," as if their internment was for their own safety. It struck me how differently the communities affected might tell these stories in comparison. Nobuko Miyamoto, a Los Angeles songwriter, dance and theater artist, and activist who appears frequently in the VC Photographic Archives, opens her memoir Not Yo' Butterfly with a detailed account of her and her family's internment, which began when she was just two years old. She describes sleeping in horse stalls and human beings being "stored" while awaiting transport to concentration camps. There is power in names, and as such, it is critical for communities to be able to tell their own stories, and for us as archivists to get those stories right.
That, to me, has been one of the tangible impacts of my work at VC. Film is a medium that is at a high risk of deterioration and loss. By taking the time to digitize all of these images (an enormous undertaking that has only been possible thanks to the years of interns that came before me, including Serena Rodholm, Dylan Karlsson, and Yuri Shimoda from the UCLA Community Archives Lab) and, crucially, to cross-check the digital images against the physical negatives to ensure that all have been accounted for, these images are now in a format that can be activated by VC filmmakers and artists to tell those stories. The history of US concentration camps is only a small part of the collection in the VC Archives; digitizing and cataloging allows these stories to be shared online, published in educational resources, and used to challenge the dominant narratives that have historically shaped (and silenced) public discourse in the US.
Source: Miyamoto, Nobuko. Not Yo' Butterfly: My Long Song of Relocation, Race, Love, and Revolution, edited by Deborah Wong, University of California Press, 2021. pg. 5.